Last updated: May 16, 2022
Everyone loves cats and dogs and other pets but those who own any pet know it is not easy to manage them, especially the fluffy pets like cats and dogs. It becomes embarrassing when you have the guests visiting your house and every corner of your house, the furniture, stairs, and even the floor are full of pet hair. Thankfully we have some best vacuum cleaners for pet hair in 2022 which are pretty effective at cleaning pet hair accumulated in the corner or drifting around the rooms.
Tumbleweed alert!
If you're up to your eyeballs in pet hair, you've come to the right place! Our best vacuum for pet hair guide provides all the information you need to buy the right pet hair cleaning vacuum for your specific needs.
What's the best vacuum for pet hair?
The short answer is: you need a powerful vacuum with a specialist hair cleaning attachment to successfully remove pet hair from carpet, upholstery, stairs, cars and hard floors.
What to look for in a pet vacuum
The Filter System
The most important thing that sets a pet vacuum apart from your standard dust buster is the filtration system. The key reason allergy sufferers look for special vacuums in the first place is because standard vacuum cleaners only filter out large particles. They send all the fine, microscopic dust and dander back into your air. It's that small matter which really aggravates allergies!
To properly deal with pet allergens, you need a machine with fine filters that can remove even the finest dust and dander particles from your home. Vacuums with sophisticated filtration systems are generally more expensive, but you won't solve your allergy problem without these features!
In general, HEPA-certified filtration is what you'll want to look for. However, some companies (like Miele, and other European makers) have their own proprietary systems that meet a lot of the same criteria. In any case, you want a set of filters that can remove at least 99.7% of debris from the air.
Some people are bothered by pet odors as well as particulate matter. If you're one of those people, or if you're living with one, look for a vacuum that has odor filtration as well as particulate filtration!

Suction Power
Suction power is super important when it comes to coping with allergies. Of course, you want suction power in any vacuum you buy. When it comes to allergies, though, you need something with the sheer power to collect the fine dust particles from the floor which less powerful vacuums leave behind. You also want something that can reach into cracks between floorboards and to the bottom of carpet fibers to collect the dander and fine hairs which pets leave behind. They often get ground in, and a really powerful vacuum is the best way to dislodge them. So, be prepared to spend a little more for something that can collect absolutely every allergen in your home, no matter how small or how ground-in.
Bagged vs. Bagless
Once you've sucked up all the fur, dust, and dander in your home, you'll need to decide how you want to deal with it!
Both bagged and bagless vacuums can work well for collecting pet allergens, but in general, we think bagged vacuums are better for keeping those allergens contained. They keep hair and fine dust sealed inside where it can't affect you. That makes it easy to simply remove the bag and throw it in the trash without releasing anything.
If you have only mild symptoms, or if you're not the allergy sufferer, you may find that a bagless vacuum works well. You'll save money on bags, too! Some people find tricks for emptying bagless chambers with less of a dust cloud, like wrapping a trash bag around the end before releasing the trapdoor.
However, if you have severe allergies and will be the one using the vacuum you may find that emptying a bagless chamber releases fine allergens into the air in or around the trash can, which will set off your symptoms. That's why we think most people ought to choose something with a good system of bags inside.
Fur
Whenever you're buying a vacuum specifically to deal with pets, it's a no-brainer that you'll need lots of features to deal with fur! Let's go through them from the ground up:
First, you'll need floor attachments that work really well on fur that's on your floors.
That means a tangle-free carpet head, preferably with a motorized brush. You can get away with air-powered brushes on low to medium carpeting, but motor brushes always do a better job! They also stay tangle-free more reliably.
For hard floors, look for attachments with brushes that have gaps in the bristle, so that you suck up the hair rather than pushing it around. Look for a low-profile attachment that will help with edges, nooks, and crannies where dust and fur balls can hide. You want something with good side suction, and lots of swivel capacity to get into tight spots.
Beater Brushes
If you have carpeting or rugs, you absolutely need a floor head with a beater brush. You can use air-powered brush heads on low to medium-pile carpeting, but flat attachments can't agitate all those ground in allergens up into the vacuum. You need a moving brush attachment to get the dead skin flakes and other pet debris loose from carpet and rug fibers.
Sealed Air Systems
You should only consider vacuums with sealed air systems when you're shopping. Not only do these machines have better overall suction, but they're tested to completely contain allergens and fine dust while you're cleaning. Using anything without a completely sealed system can be a nightmare for allergy sufferers!
Durability
Finally, cleaning up after pets is a tough job. Make sure you invest in a vacuum that's up to the task! It's best to have something with as many metal parts as possible, with as little plastic as possible. For plastic components, look for tough, sturdy plastic that's thick and heavy enough to handle being used several times a week.
Best Overall: Dyson Ball Animal 2 Upright Vacuum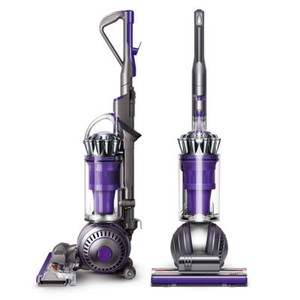 Dyson makes some of the best vacuums on the market, and their Dyson Ball Animal Upright is no exception. This model may not be cheap, but it's our pick for the best fur-combating tool you can buy. It works perfectly for carpet, wood, vinyl, and tile floors and features an easy-to-dump waste bin. When it comes to pet hair, wrestling with a bagless vacuum can cause even more mess, but Dyson's push-button release makes it easy and hygienic (no need to touch!). It features a stair and furniture tool and has a 35-foot cord so you don't have to unplug it at every turn. Each Dyson comes with a five-year warranty against defects, so your purchase is protected.
Owners love the powerful suction and easy-to-clean design, though some do note that the filter needs to be cleaned frequently, but that should be expected with pets around. If you want an all-around great pet hair vacuum, the Dyson is a wonderful investment.
Best Budget: BLACK+DECKER Airswivel Ultra Lightweight Upright Pet Vacuum Cleaner
Just because you're on a budget, that doesn't mean you can't fight the fur battle. The Black + Decker Air swivel Ultra Lightweight Pet Vacuum is a durable, powerful alternative. This 8.8-pound vacuum is easy to maneuver but doesn't sleep on the job. The dust cup holds 2 liters and each device has a 2-1 crevice tool and a pet hair tool to catch even the hardest-to-reach hair. It works well on both carpet and hardwood and features a swivel steering design that allows you to turn sharp corners and wiggle under tight furniture.​​
Customers rave that it's both powerful and easy to use, and does an excellent job at a lower price point than other offerings.
Best for Carpets: Bissell Pet Hair Eraser Upright Bagless Pet Vacuum Cleaner
Pet owners who live in a home with a lot of carpet space know that the fur-fighting struggle is real. That makes the Bissell Pet Hair Eraser an all but essential tool for keeping shedding in check. The company's SuctionChannel technology means there's suction on both sides of the brush roll, creating a powerful pull that does a number on hair and debris. It's also a breeze to clean, with a patented "hair spooling" system that lets you empty the vacuum with the push of a button.
Buyers can't help but use passionate language when describing the Bissell Pet Hair Eraser: "mythical" and "magical" might be a stretch for most vacuums, but this one earns it. If your carpet could use a fur-free refresh, look no further.
Best for Hardwood: Bissell PowerEdge Pet Hardwood Floor Stick Vacuum Cleaner
Vacuuming on hardwood is a whole other story, and requires different tools than what you'd use to clean a carpet. The Bissell PowerEdge is specifically engineered for hardwoods, with a V-shaped design that pushes debris into its path while catching fine particles along the edges. It also makes cleaning around table legs much simpler. And at just over seven pounds, it's truly lightweight, with a thin profile that makes it easy to store.
Customers call the Bissell PowerEdge a workhorse that does wonders for wood floors. Just be aware that the V-shaped setup can occasionally make cleaning along a straight edge (like a wall) challenging, although it does a great job of getting into hard-to-clean corners and under baseboards.
Best for Furniture: Bissell Pet Hair Eraser Handheld Vacuum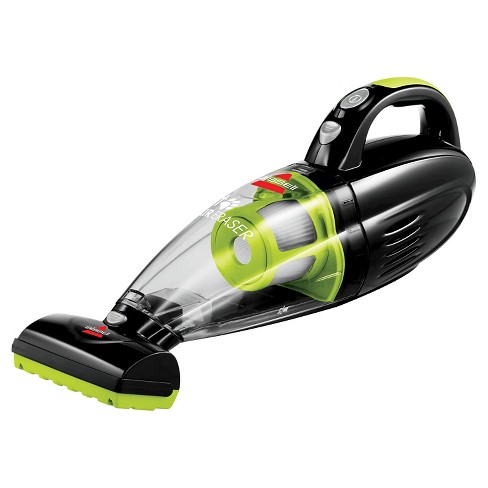 Every pet owner knows that cleaning up fur means more than de-shedding your floor. It also means painstakingly going over every couch, chair ​and table to keep that pesky fur out of your hair. With the Bissell Pet Hair Eraser Handheld Vacuum, this quickly becomes a lot less painful. Perfect for cleaning upholstery, its handheld, lightweight design (only five pounds) makes getting the fur off your furniture much easier.​
As a bonus, this mini-vacuum also features a second nozzle that can be swapped in to clean up dry debris (like stray pet food). However you use it, though, be sure to clean it out after each use—since it's bagless and relatively small, it needs to be empty to work effectively.
Best Robotic: bObsweep PetHair Plus Robotic Vacuum Cleaner and Mop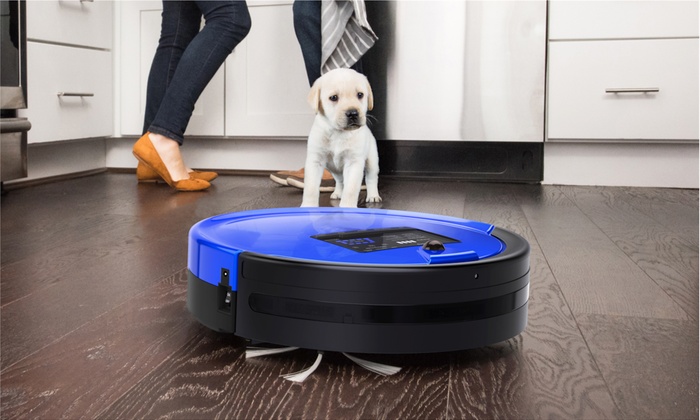 Tired of cleaning up after your shed-happy pet? Get a robot to do it instead. This automatic vacuum from bObsweep may be pricey, but it's worth it. Boasting both strong suction power and a large, one-liter dustbin, it's specifically designed for scooping up pet hair by the clot. The vacuum is as high-tech as one would expect, with a self-charging station and a simple-to-use diagnostics system. Even better—in addition to sweeping, it also mops and even sterilizes as it works.
Customers describe this product as truly life-changing, and they aren't kidding—even for people with multiple pets, expect to see a real difference. Several buyers also give a shoutout to bObsweep for customer service that goes above and beyond.
Best for Cats: BISSELL Pet Hair Eraser Lithium Ion Cordless Hand Vacuum

Cat owners know that picking up after their pet means more than just dealing with hair. It's a full-on, often hands-and-knees effort to stay on top of stray food and runaway bits of litter that got tracked outside the box (always a treat). The BISSELL Pet Hair Eraser Lithium-Ion Cordless Hand Vacuum is perfect for cat owners because it's small and handheld, making it ideal for cleaning off fur-covered couches and accessing those small, hard-to-reach spaces. It even includes a set of specialized tools for cleaning upholstery and getting into crevices.
Customers say the BISSELL Pet Hair Eraser Lithium-Ion Cordless Hand Vacuum is small but strong and does a great job of cleaning up cat hair—as well as tidying up behind furniture, around the litter box and anywhere else cats roam.
Bonus tips: how to remove pet hair from any surface
Use this guide as a cheat sheet next time you find your home looks a little furrier than usual!
How to remove pet hair from furniture
Remove pet hair from upholstery and fabric with dampened rubber gloves by running your hand over the surface to attract hair. Simply rinse off the glove when it's covered with hair and repeat as needed. If you don't have rubber gloves handy, try a slightly wet sponge instead. I like this method because it doesn't use up lots of tape needlessly.
Or, lightly spray a mix of water and fabric softener onto your upholstered furniture, then wipe off.
To remove pet hair from wooden furniture, use a soft cloth and furniture polish or anti-static dusting spray. The spray will eliminate the electric charge, making removal easier and lessening the likelihood that the hair will re-stick.
How to remove pet hair from floors
For carpet, scrape a pumice stone gently along the surface. Any hair will gather right up (plus your carpet won't suffer from rough, dry skin this winter).
When vacuuming your carpet, go over areas twice and alternate directions to loosen stubborn hairs.
On hardwood, laminate or other bare floors, use an electrostatic or microfiber dry mop; vacuums tend to blow hair around versus corral it in one spot.
How to remove pet hair from clothing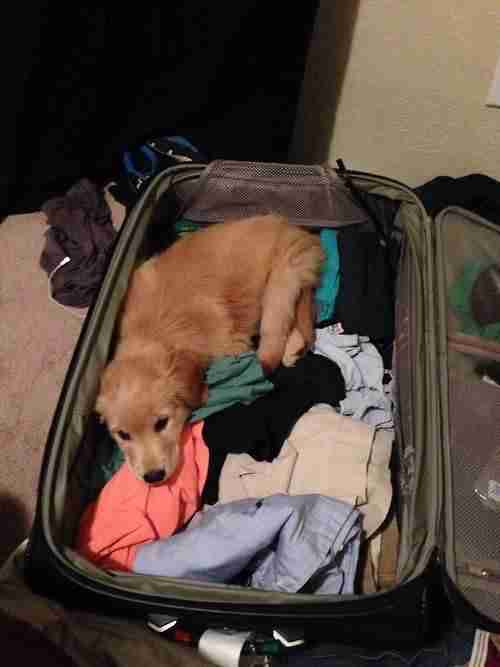 Keep one of those lint rollers right beside your door, for a quick hair removal session before you leave to meet friends or go to work.
For larger quantities of hair, try throwing your clothes in the dryer, along with a dryer sheet for 10 minutes. Or, use a dryer ball for a chemical free solution. The movement and softener loosens hair, which winds up in the lint trap. Adding liquid water softener to the washer helps too.
How to remove pet hair from cars
 You can use a household rubber glove typically used for cleaning. If you choose this option, it's good to get the ones with nubs on the palm side of the glove. You can also use a latex glove. Wearing a dry glove, run your hand over the seats and carpeted areas of your car, wiping from top to bottom and in one direction only. You can dampen the glove if the dry process does not produce the results you want. Moisture adds weight to the hair and helps it to clump.
An inflated balloon uses static electricity to attract pet hair. As you run the inflated balloon over the surface area, hair collects on the balloon which can then be wiped clean, reused as needed, and discarded when done. This method does a reasonably good job at removing simple, loose pet hair, but would not be effective on strands that are embedded.
Packing tape or duct tape can be used to pick up those pesky hairs left by your pet. This method is like using a lint roller for removing pet hair from fabric, but lint rollers are expensive and less effective on pet hair embedded in your seats and flooring.